Play and Hear Colors as Music and Make Professional Soundracks with Ease!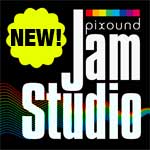 Pixound Jam Studio opens the door to a whole new way to play and enjoy music! At the heart of this one-of-a-kind software is a patented technology that translates RGB color information into musical information allowing users to actually play pictures and videos by moving a cursor over them. The music produced is fully controlled in any key and scale (over 60 to choose from), at any tempo and using any instrument. Pixound Jam Studio also features patent pending Cyclophone™ technology, which creates an endless variety of background music and grooves for Pixound to play on top of, in perfect sync. Pixound Jam Studio includes a wonderful innovation called Groovology Desktop™ which watches as you switch applications and windows and remixes grooves accordingly. Thus, by simply doing your work you are creating a perfectly synchronized soundtrack to your actions.

Pixound is a technology that can be utilized by all. Graphic designers, dancers, educators, audio, video and game producers as well as music enthusiasts and children will all find uses (and enjoyment) in Pixound. Unlocking the musical power of color information, Pixound is unique in the world of music/graphics software. Every image becomes a new musical experience to explore. Many software packages have gone from music to color, but only Pixound can go from color to music. Pixound with live video (using an iSight for example) becomes an instant musical mirror where your motion generates music. This is already being used by sports enthusiasts who are tired of the same old disco beats and would rather make their own music. This is also perfect for dancers who can make music with their motions with nothing but a video camera and a laptop. The Pixound sports division is called SportSonix™.
| | |
| --- | --- |
| | Pixound autoplay styles are not only extremely fun to explore but they also create sophisticated musical patterns which can be recorded* and used in other applications or loaded into iTunes and converted to mp3. |
Groovology Desktop™
The Cyclophone technology employed by Desktop Groovology is perhaps even more astounding than Pixound for its ability to produce new music on demand which is incredibly human sounding, quite unlike other computer generated music. This is achieved using a new way to control notes and how the notes are played. Musicians, video and music producers (both pro and amateur) now have a new world class, professional music generation tool for generating ideas and finished works for live or recorded music. Music creation and production times can be drastically reduced for a variety of projects. Future products will more fully exploit Cyclophone.
Midi Support
You use external midi capabilities which allow you to create even richer soundscapes. Record all tracks as midi files for use in other programs such as GarageBand, iTunes, Logic, Digital Performer, ProTools, etc.
Pricing
Techné Media is offering the Jam Studio at the low price of $99 (was $249).
Features:
Pixound RGB Color-Music Interpreter with manual and autoplay modes
Groovology Desktop—4-track groove generator with harmonies turns whole mac into music maker
Over 10 Stock Drum Patterns
Over 10 Stock Bass Styles
Over 15 Built-in progressions and progression styles
Over 60 Musical Scales
Up to 19 tracks of sonic output to either Core Audio built-in Synthesizer or external Midi (R, G, B, 4 drums, Bass, 4 Grooves plus harmonies)
Harmonizer
Seven Musical Visualizers (more to come)
Record and save out Midi files
Load pictures to play with pixound
Play pixound in any app running on your computer
Requirements
Mac OS X 10.4 or higher. Midi interface if using the Midi features.
Purchase
To buy an unlock code, you can buy online using PayPal. Once you have the code, you can unlock the demo version for full functionality.